Hi everyone.
It has been a very long time since I've been here to speak about Max.The wonderful news is that Max is doing very well.  He has had some ups and downs.  However, he's a trooper and still amazes me with his ability to just keep going!
He's on Palladia now for almost 2 years and I am happy to report that in August 2013, Max was declared "cancer free".  I did not want to have an xray done because I was not going to put him through anymore no matter what it showed so I did not allow it for over a year.  But, he was in for a check up and I said please do the xray and lets see how well the Palladia is doing and maybe we can take him off.
His doctor all but skipped into the room and said "I can't find the tumor on the xray anywhere".  I cried!  He smiled from ear to ear!  Together we realized we'd done something wonderful.  His willingness and steadfastness in using Palladia for something it wasn't meant for and me with my homeopathic ideas from Dr. Dresslers Cancer guide had given a pup with great determination a new life.
Unfortunately, in this process of helping Max prosper, we lost another of our precious little ones to bladder cancer.Although he was on the same food regiment at Max, there's just no chemo for that cancer yet.  It was a huge blow to us and Max and he was lost without his partner in crime.  Ultimately, we added a little old soul to our family and now Max has someone his age to keep him company and she (Heidi) has a seasoned companion!
I'd like to wish everyone a wonderful and SAFE holiday season.  Be good to each other and all animals…2, 3, or 4 leggers!
Max & Mom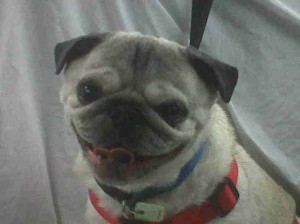 Posted: December 13th, 2013 under Uncategorized.
Comments: 5